Local SEO – Why you need it now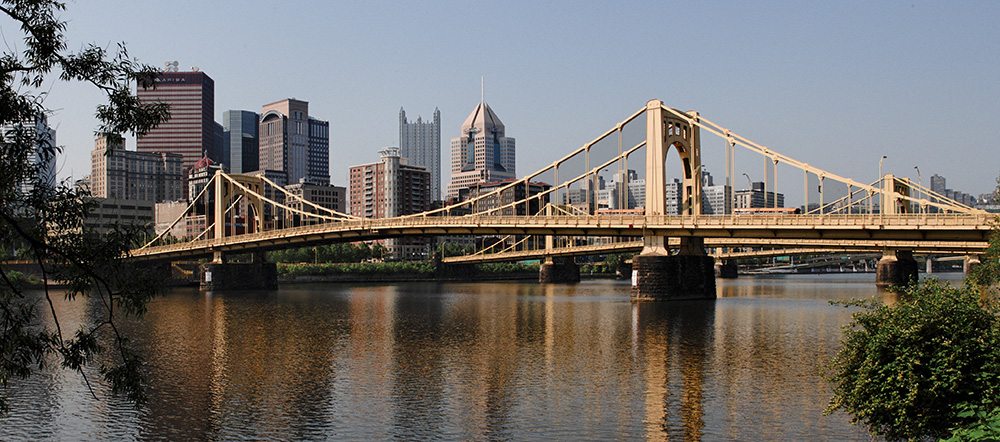 Local SEO
Local SEO- You keep hearing about it. You've read the articles telling you it's important. You may have even read the many list posts telling you what to do to start excelling with local search.
But what about the why?
Why exactly is local search engine marketing important? And how does it differ from traditional SEO and search engine marketing?
In addition, what are the actual factors that contribute to local SEO success?
As we move forward, we're going to answer these questions and put you on the path to dominating localized search.
Let's get started. In this post, we are going to use both Local SEO and local search engine marketing interchangeably because people look for both terms.  Frankly, local search engine marketing is probably more accurate.  Why?  Read on – most of the techniques and tools we are going to do a deep dive into have nothing to do with what most people think of when they think of Search Engine Optimization.  But, and here is the key – the tools and techniques improve your SEO rankingsbecausee they all make you or your company look more expert to Google and other search engines
Why Local Search Engine Marketing is Important
If you're looking for reasons as to why you need local SEO, there are plenty of them.
The most important of which is the fact that the number of local searches continues to increase every year.
Take a look at this graph from Smart Insights showing U.S local mobile search vs. desktop search from 2011-2016: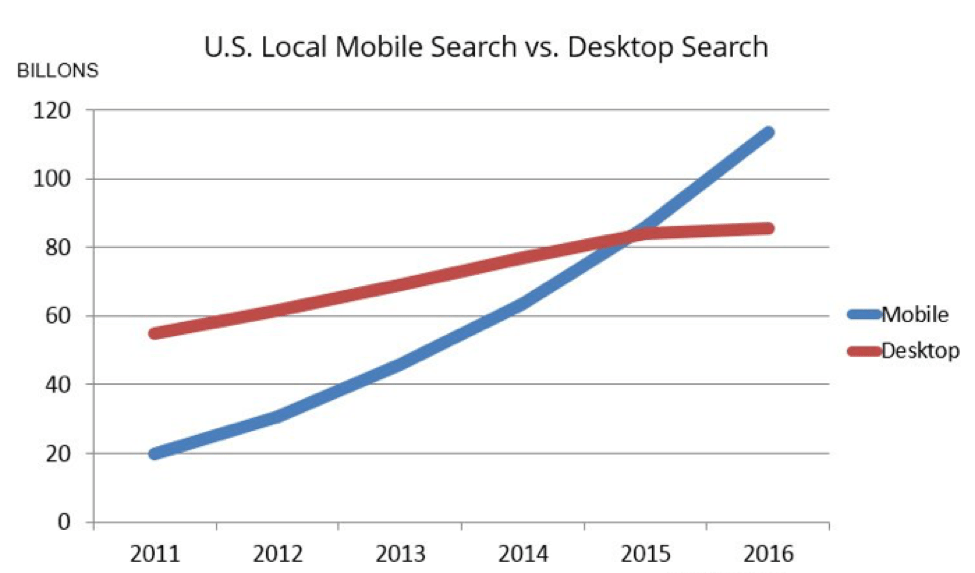 As you can see, local searches on mobile devices have increased from 20 billion in 2011 to almost 120 billion in 2016.
And, while the jump for desktop searches hasn't been as significant, there has still been a clear and steady increase.
Another reason you need local search engine marketing, as Google tells us, is that local searchers are more prone to take action.
In fact, according to Google's research team, about 50% of users who conducted a local search on their mobile device visited a store within 24 hours. In addition, 34% of users searching via their computer or tablet did the same.
At this point, we now know two crucial traits of local searchers.
There are a LOT of them.
They're much more likely to take immediate action than users that aren't searching locally.
Still not convinced of why local SEO is important?
Well, a 2014 survey by comScore gives us yet another compelling reason proving its importance.
In their survey of over 5,000 US adults, they found that 78% of local-mobile searches result in offline purchases.
That's a big number. And it's yet another reason you need local SEO.
What is the Difference Between SEO and Local SEO?
The first, and most obvious, difference between SEO and local SEO is that localized searches have a geographical component.
Google's co-founder, Larry Page, has stated that their goal is to understand exactly what you mean when you perform a search and give you back exactly what you want.
They're constantly making changes to their algorithms in an effort to make this happen.
One way that they attempt to give you back exactly what you want is by constructing their algorithms to determine whether or not your search has local intent.
Determining local intent is easy for some searches. If you were to search for 'chinese food', for example, your results would look something like this: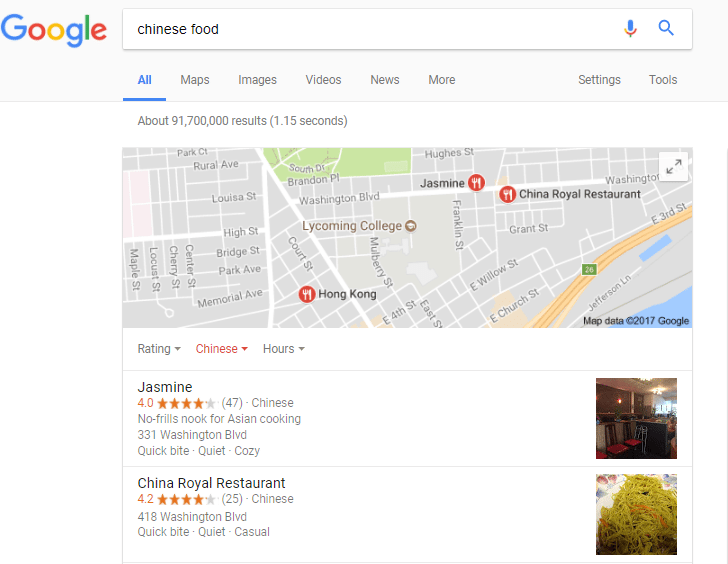 As you can see, in this scenario, it's not necessary to search for 'chinese food in <CITY, STATE>' or 'chinese food near me'. Google's algorithms immediately flag this food-related term as having local intent and provide results based on your location.
If you were to search for a term like 'chinese food recipe', however, you'd be provided with national results that look like this: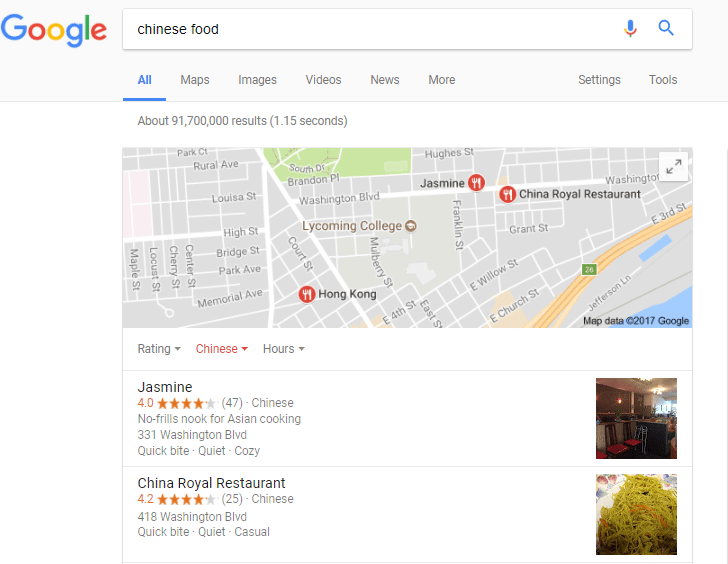 One of the difficulties with understanding the difference between SEO and local SEO is that Google, and other search engines, don't offer much information about exactly how they determine local intent.
As we've seen from the statistics in the previous section, however, we do know they've made a continuous effort to increase the number of keywords and search phrases flagged for having localized intent.
The Difference Between SEO and Local SEO Competition
It's important to realize there is a significant difference in competition between traditional and local search.
With national searches, you're competing with every web page and piece of content in the country, and sometimes the world, for first page results.
With local searches, you're only competing with web pages and businesses in your city or region.
This is yet another major advantage of focusing on local SEO.
Even if other businesses in your city or region have already built a strong localized search engine profile, there's still plenty of opportunities to rank on the first page of results.
Understanding Local Search Engine Marketing  Terms
Before we dive into some of the strategies that lead to local search success, let's take a look at a few terms and phrases that you will want to know as we move forward.
What is Local SEO Citation?
Local SEO citations are generally described as the mentions of your company name, address, and/or phone number online.
They can, however, also include other elements like business category, hours, payment types accepted, reviews, email addresses, etc.
These citations can be placed in several different places throughout the web, including:
Local Business Directories
Apps
Websites (Ex. Review Sites)
Social Media Platforms (Ex. Twitter and Facebook pages)
As to why local citations matter, Moz gives us two reasons:
They impact search engine rankings. The number and accuracy of citations, along with the quality of platforms/websites they're featured on, can either have a positive or negative impact on localized rankings.
They impact customer decision making. Accurate citations make it easier for people to discover your business, which then leads to more website and foot traffic (and hopefully, sales).
So, to answer the question of what is local SEO citation in simple terms – they are the inserts of relevant business information that you input on websites, platforms, apps, and directories throughout the web.
What is Local Search Engine Marketing?
The definition of marketing is:

If we use that as a starting point, we can answer the question of what is local SEO marketing by saying it's:
"The action or business of promoting and selling products or services to localized customers through search engines."
Because our focus is on optimizing our business to be found by local searchers in search engines, the strategies of local SEO marketing are different than that of a typical digital marketing campaign.
And we'll talk about those strategies shortly.
What is Local SEO Services?
These are the services provided by marketing agencies, like onCOREventures, that are aimed at improving the local SEO success of businesses.
This is done through a variety of methods, including coaching, consulting and hands-on assistance, in an effort to maximize the exposure of your business when customers in your area use search engines.
Local SEO services differ from traditional SEO services in that the goal is to generate website and foot traffic from localized customers that convert at a higher rate than those that are outside of your city or region.
Simple Strategies That Contribute to Local Search Engine Marketing Success
As you work to improve your local  search engine marketing profiles, here's a look at a few simple local internet marketing strategies that can help you get started:
Create Citations on Local Directories and Review Sites
You'll want to start the process by creating citations on high-quality websites that include local online directories and review sites.
While the local directories you should target will differ depending on your location and business type, some of the popular sites you would want to create citations for include:
Yelp
Google
TripAdvisor (if applicable)
Angie's List (if applicable)
OpenTable (if applicable)
Yellow Pages
Facebook
Manta
Superpages
It's absolutely essential that your business information remains accurate and consistent across each platform.
So, before you start creating citations, we highly recommend you take time to prepare all of your information – using a local citation building template makes this process simple.
Optimize Your Content for Local Relevance
Content marketing plays an integral role in traditional SEO success.
But you may not realize it can also have a significant impact on your local SEO ranking.
Structuring your content, and more specifically your web pages, to include the names of the city, region, and/or neighborhood you're targeting can contribute to local SEO success.
And if you're able to generate backlinks to your web pages from local news outlets or other localized websites, you can continue to build your Domain Authority to the point where search engines recognize your website as a trusted source.
Answering frequently asked questions and creating list articles are two great ways to generate content that boosts rankings while maintaining local relevance.
For more information on this topic, check out Audience Bloom's article offering ideas for writing local-SEO optimized content.
Focus on Reviews
Reviews serve as the foundation for your local SEO success.
There are plenty of reasons for this.
For one, reviews impact your search engine rankings. When someone performs a search that's flagged for having local intent, they're generally led to a results page that features reviews at the very top of the said page.
If your business doesn't have reviews, and others do, you can bet they would go with the business that others before them have gone with.
Another reason reviews are crucial is that they have a major impact on customer decisions.
In fact, 88% of consumers trust online reviews just as much as they do personal recommendations.
So, essentially, reviews serve the same function as word of mouth advertising.
You can find more detailed information on how to ask for online reviews by checking out our previous article on the topic.
Why You Need Local SEO Right Now!
Here's the bottom line – achieving local SEO success is imperative if you want to maximize the potential of your business.
And while you'll need to commit to strong reputation management and the strategies outlined above to get there, it will be well worth it in the end.
If you'd like to see how your business currently compares to others in your area when it comes to local SEO, we encourage you to give our free Review Scan a try.
Just input your business info, click the 'Scan My Reviews Free' button, and you will instantly receive a reputation report.
No obligations. No risks. Just a free tool to help you get a better grasp of where your business stands.
For a more comprehensive look at improvements, you can make to start dominating local SEO and earn more customers, check out our local online presence audit.  If you are not ready for us to audit your online presence, you can do it yourself using this free eBook written by John Jantsch the founder of Duct Tape Marketing.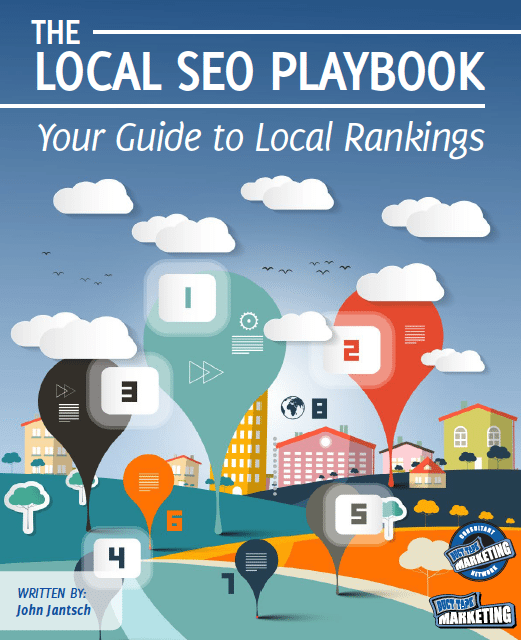 With the audit or the concepts in the eBook, you will receive a complete review of your website, detailed analysis of your current SEO and keyword ranking status, content effectiveness analysis, and a look at your social media presence.
In addition, if we perform the audit, we'll break down the competitive landscape in your area to help you find areas where you can get ahead.
Not Sure Where to Start?
The world of marketing is rapidly expanding. What's trending and helping you gain new customers today won't necessarily be the best way to grow your business tomorrow. With so many moving parts in both the digital and physical marketing space, it's no wonder small business owners are unsure where they should even start. That's where the Pittsburgh marketing agency onCOREventures Strategic Marketing comes in. We created onCOREventures for honest business owners wanting to operate in harmony with their core values. If you're trying to create positive change in the world while also attracting customers who share your values, our "strategy first" methodology may be exactly what you've been looking for!
Header Image Credit – Frederick Geiger