Is Your Small Business in
Need of a Quick Start?
Taking a business from the "entrepreneurial" phase and becoming a "real business" requires new marketing techniques and strategies. It means waking up to new possibilities and reaching clarity about who you want to serve with your business and what your story about meeting their unique needs you want to tell.
We Start with Strategy
& Local Foundation Strategy & Content
Planning Meetings
You'll get two virtual or in-person meetings with our strategy and content marketing experts, to determine what you should prioritize in your marketing, and to conduct research to determine which strategies will work best for you. We'll help you determine which themes and keywords you want to rank in, so you can bring your content to the first page of Google and make it easy for your customers to find you. We'll help you develop a spreadsheet of content topics for the upcoming quarter, so you don't end up staring at a blank screen, wondering what to write. When your potential customers search for you in local business and industry-related directories, can they find you? We'll make sure they can, by claiming, creating and submitting consistent and attractive profiles across the directories your customers look in when they're ready to make a purchase. We don't just create your directory profiles – we continuously optimize them, and we promote campaigns that make your profile appear more prominently in search engines.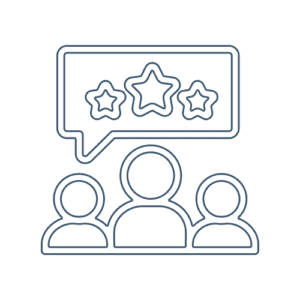 Today's customers rely heavily on reviews when choosing which business to purchase from. We'll help you stimulate reviews on Google and other review sites, and create a review page on your site to bring you more reviews.
To save you time and bring you clients, we'll write two 500-700-word blog posts based on your key content themes, post them on your WordPress site, and optimize them for search engines, every month.
Social Media
Posts & Updates
We'll build your brand, revenues, and credibility by publishing hand-crafted posts taken from your content, and from a list of industry influencers and proven engagement tactics to stimulate social media growth, activity, and engagement.
Key Metrics Dashboard
& Monthly Reports
As a business owner, you need to be able to monitor growth, improvement, and potential problems in key indicators. We'll create a client dashboard to enable you to easily monitor those key metrics, and review it with you each month in order to gauge progress and make adjustments as necesary.
Each month, we'll check You'll get quarterly in-person or virtual sessions to plan the themes for your upcoming content and to adjust and add tactics if necessary, so you can be sure that you're always on the path to success.
Ready to Start
at the Core?
Complete our Free Marketing Checkup
for a detailed proposal! We'll be glad to
help you grow your business!