Strategic Referral Partnerships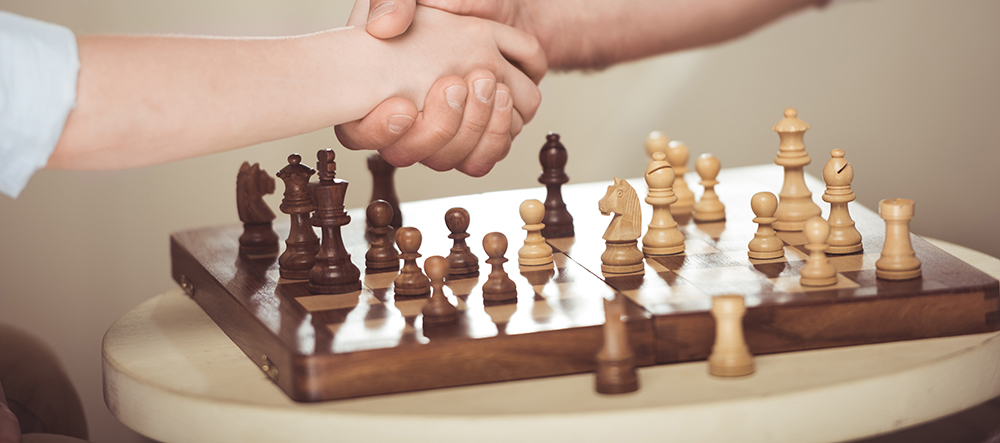 Ten Elements You Need to Create Strategic Referral Partnerships
Referral Partnerships – when I was running product management for a software company the first thing I tried to do when launching a new product was fill in the missing features of our solution through the creation of strategic partnerships. In my five years of coaching and working with small business owners, both through my own business and in my capacity as the area director of Western PA's region of BNI, I've met many entrepreneurs who tried and failed to grow their business through networking organizations.
They thought all they had to do was meet a new referral partner, exchange a few emails and phone calls, and make sure the other person knew who their ideal client was and how to make the introduction, and referrals would start pouring in.
If you've tried this strategy, you've probably noticed that it doesn't work. You've likely spent hours attending networking events, having conversations, and doing follow-ups, and received little or no return on your investment.
In this article, I'll explain why that happens, and what you can do to break that pattern and start getting more clients from your networking efforts.
Why do business owners struggle to create strategic referral partnerships?
Often, it's because they don't account for the biggest paradox in networking: most people go to networking events looking to make money and get referrals, not to make purchases or give referrals.
In other words, everyone is looking to sell, but nobody wants to buy anything!
Fortunately, you can turn this mindset to your advantage, and use it to create mutually beneficial referral relationships with people who share your ideal clients.
How?
By tapping into the most basic principle of marketing and sales: if you want to get people's attention and persuade them to take action, you need to start by talking about what they want.
Thanks to the networking paradox, you know what they want: to get referrals and make sales.
An excellent way to get strategic partners to send you clients is by combining this knowledge with the principle that "givers gain". 68% of people who receive a referral from you will give you a referral in return, so by giving them what they want, you get what you want.
Does that mean you just need to get people's attention by talking about giving them referrals, send them a referral, and expect the clients to start coming in?
No; it's a bit more complex than that. If you want to consistently get referrals, you need to have ten key elements in place.
The ten elements you need to create strategic referral partnerships:
Element 1: A compelling "why".
People like to feel like they're supporting a good cause, and that they're part of something bigger than themselves.
When you have a compelling reason for being in your business or job – a difference you want to make in the world, a benefit you want to bring to people, or a problem you want to solve – people pick up on that passion and goodwill, and they want to be part of that.
So why are you in business? What do you want to do for people, and why is it important to you?
This is a good time to be vulnerable, human and relatable so that people can form a real connection with you.
Element 2: A clear picture of your ideal client.
People can't find your ideal client and send them to you if they don't know who that ideal client is.
Before you try to get referrals, make sure you can describe your ideal client in clear, specific terms, so your strategic partners know exactly who you help and how you help them.
For best results, be prepared to describe three different types of clients:
The "bread and butter" client who buys your most basic offer, like an ebook.
The "cream" client, who purchases a more expensive and valuable product, like a three-month group program.
The "dream" client who buys your highest-ticket offer, like a year of one-on-one coaching.
How would your strategic partner identify each of these client types? What desires, symptoms, complaints or actions would your ideal clients show or talk about?
When you're describing your ideal client, be sure to focus on the externally visible signs that your strategic partners could see or hear, rather than the internal root causes that they might not be able to detect.
Element 3: The "special sauce" that separates you from the crowd.
When you tell your potential referral partner what problem you solve, don't forget that you might not be the only one who solves it.
If you want to be the one to whom they entrust their valued clients and friends, you need to tell them how you solve the problem more effectively than the other people to whom they could give the referral.
What is your 'special sauce'?
What value do your clients get from working with you that they don't get from other businesses in your field?
What problem do you solve that other products either fail to address or cause themselves as an undesired side effect?
What method do you use, and why is it faster, easier to use, or more effective than the other strategies or tools that are available to their clients?
Element 4: A clear understanding of your customer journey.
While some people will go straight from receiving the recommendation to buying a product, others take time, rapport, and multiple interactions before they'll purchase anything.
Even if they do make a purchase, they might not buy your best offer right away.
They could start out with your free articles, sign up for your newsletter in exchange for your opt-in gift, receive some educational emails, buy a small product, then work their way up to your high-ticket offers.
It's important to know how your bread and butter, cream and dream clients enter your customer journey and travel through it, and what they're looking to learn, receive or accomplish at each step.
This will help your strategic partners to make helpful recommendations that your potential clients are willing to act upon, and to facilitate "know, like and trust" between you and the people they're referring.
It also enables you to know what information to give your partners. You don't want to make them guess what recommendations to make, or how to describe what the products or services they're recommending are and why the client needs them.
Give them all the information and materials they need in order to make the introduction.
Element 5: Related components of your solution that other businesses could deliver.
While almost anyone can send you clients, you'll get your best results by working with companies that are serving the same ideal client as you, in a way that complements your own offering.
When your clients work with you, what other services or products do they tend to end up needing?
For example, if you're a moving company, your clients will often need home insurance, legal assistance, and a mortgage for the home they're buying.
By forming referral partnerships with those companies, you can provide a more comprehensive and valuable service to your clients, which sets you apart from the other moving companies in your area and makes your customers' lives easier.
Element 6: Other business owners that offer services to the same ideal clients.
Once you know what complementary products or services your clients need, you need to find other businesses that provide them.
For instance, a business coach could work with a copywriter, and a marketing consultant could work with a search engine optimization expert.
Take a minute to write down all the services or items your clients need in order to get the results they desire. Then make note of which of those elements you provide, and which ones present opportunities to make referrals.
For example, my ideal referral partners include:
Business Bankers from PNC that serve clients one million and up
Branch Managers from PNC or other local banks, serving clients one million and below
Commercial insurance agents
Commercial real estate agents
Angel investors, or venture capital firms
Financial advisors dealing with "the millionaire next door", who are typically small business owners
CPAs
Business lawyers
Divorce lawyers
Estate attorneys
Event planners for businesses
Chiropractors that deal with tension and stress in business owners
Element 7: Knowledge of how you want to be introduced to your ideal clients.
As noted above, you don't want to leave your referral partners guessing how they should make introductions between you and the people they refer to you.
When I ask people to refer clients to me, I use the following letter. Feel free to customize it and use it as a template for your own referral introduction letter.
"How to Refer Frederick Geiger – Managing Partner – onCOREventures
My primary method of marketing is by referral. I have found that a prospective client who is referred to me is more prepared to appreciate the value that I can offer.
I want you to know that I understand the trust you place in me when you offer a referral, and since I am a firm believer in the law of reciprocity, if you are open to establishing a referral relationship with me, we will be able to share referrals because we are in front of the same types of clients every day.
Please use this document as a guide when you refer me to your clients and business partners.
How Would You Spot My Ideal Client?
Locally owned Pittsburgh-based businesses with sales of 1 million to 20 million dollars a year that want to grow their top line and that is looking for an integrated marketing solution that is cost-effective and delivers predictable results.
How Best to Communicate What I Do
I follow the practice of starting with strategy over tactics, which means I get to know what my clients' goals for business are and understand what they are trying to accomplish before I make recommendations.
My Client Referral Process
Upon receiving a lead, I automatically forward a blog entry I have written that explains the concept of creating a strategy before investing in piecemeal "marketing of the day efforts" to try to get business.
I conduct an introductory meeting with each client and present an overview of what I find by reviewing their current online presence – things like their website, their clients' reviews, and their social media presence.
If they like what they hear and see in this free introduction meeting, I offer a total online presence audit for them for an affordable $799 fixed fee, which produces recommendations that they can take to anyone to improve their online presence."
Element 8: An understanding of your role in your business.
Far too often, I meet business owners who are functioning not like owners of a business, but like technicians who are owned by the business.
Usually, this is because they've fallen prey to a phenomenon that Michael Gerber, author of the E-Myth describes as an "entrepreneurial seizure".  I first say Michael speak in Salt Lake City in 1993 and he impressed me when he described my boos who was sitting down next to me.
An entrepreneurial seizure occurs when a person is good at delivering a service and decides that rather than working for a boss, they'll be their own boss.
It sounds like a good idea until they discover that running a business isn't just about delivering the service.
They also have to attract customers, do the bookkeeping and legal paperwork, find ways to grow the business, and either hire a team of their own or burn themselves out by trying to do everything.
As a result, instead of truly owning their business – or, for that matter, their life – they end up working for a business that has become a tyrant.
If you truly want wealth and time freedom, you need to stop functioning as the technician you used to be and move fully into the role of the business owner.
This means delegating tasks to other competent people, so you can get out of the office or off the job site, and focus on following up with leads, creating referral partnerships, and coming up with ways to attract more customers and grow your business.  If you are at the solopreneur phase and have no one to delegate to you can use a service like Guru or automated personal assistants.
Element 9: Regular meetings with your partners.
Referral partnerships are NOT a "set it and forget it" marketing tactic. They're relationships and need to be treated as such.
I strongly recommend meeting with your referral partners on a regular basis, preferably in person, or at least via video chat.
The more of an emotional connection people feel with you, the more they'll want to support you, and the more likely they are to remember you when they encounter a potential referral.
Element 10: Tangible ways to thank your referral partners.
One way to build your relationship with your strategic partners, to help them remember you, and to make the law of reciprocity work for you, is to give gifts or referrals to the people who send referrals to you.
People like to feel appreciated, and that enjoyment encourages them to repeat the action that led to them feeling that way.
Ready to get more strategic referral partnerships? Use this gift to get started.
If you're ready to become more successful at forming strategic referral partnerships that actually bring you clients, we have a free gift for you, courtesy of Duct Tape Marketing.
This ebook will help you to create more income and make a bigger difference through your referral marketing efforts, so you can stop wasting your irreplaceable time on tactics that don't get results.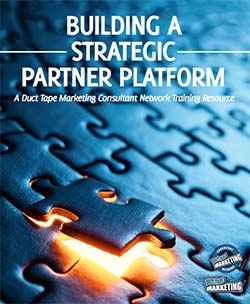 If, after reading the ebook, you find that you need some assistance to put your referral marketing plan into action, we're here to help.
Not Sure Where to Start?
The world of marketing is rapidly expanding. What's trending and helping you gain new customers today won't necessarily be the best way to grow your business tomorrow. With so many moving parts in both the digital and physical marketing space, it's no wonder small business owners are unsure where they should even start. That's where the Pittsburgh marketing agency onCOREventures Strategic Marketing comes in. We created onCOREventures for honest business owners wanting to operate in harmony with their core values. If you're trying to create positive change in the world while also attracting customers who share your values, our "strategy first" methodology may be exactly what you've been looking for!
Image Credits – Header Adobe Stock