Social Media – 10 trends to track in 2018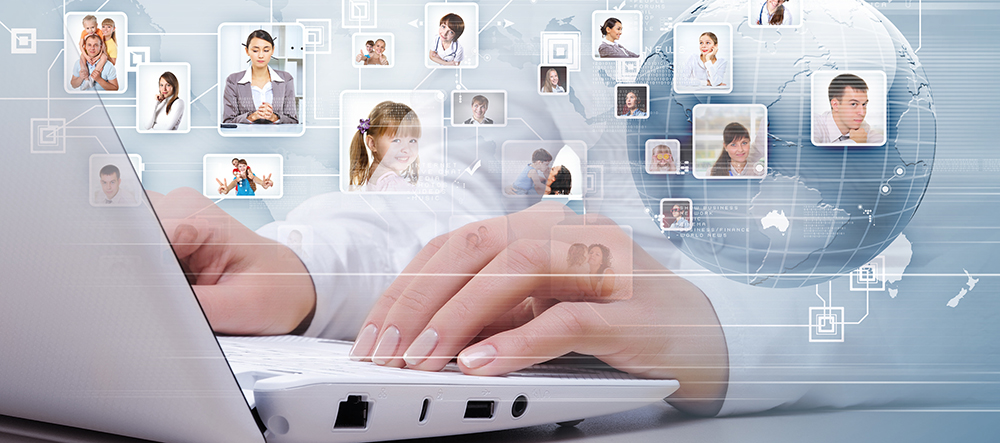 Social Media. Whether you want to admit it or not, social media is slowly creeping more and more into our lives. It's hitting us with pictures and stories and live streams and carefully crafted videos. More and more people are ditching the traditional career path to become content creators, lifestyle influencers, and bloggers. But how can you stand out when the market is completely over-saturated? Users scroll through thousands of posts a day, meaning your chances of grabbing their attention decreases exponentially. So how can your brand break tradition and get ahead of the curve? Here are the top ten trends business marketing will see in the social media marketplace in 2018.
 Influencer Marketing:
Let's start with one of the biggest trends of the last few years, influencer marketing. Google and Yelp are actively soliciting influencers to post reviews and additional information on their channels of content distribution. But it is way bigger than that. Becoming an influencer is one of the trendiest titles a social media savant can have.
Most tend to revolve around the health and beauty sectors of social media, ranging from fashion icons and beauty gurus to fitness phenoms and holistic healers. With the surge of "fake news" it's hard to know what products truly work and which ones are scams. Audiences feel lost and confused with so many similar products on the market and no longer know whom to trust.
There are hundreds of detox teas, protein powders, teeth whiteners, vitamin supplements and a million other products aimed at convincing you they are necessary for you to be the best you possible. But which ones truly work? And which ones won't be a waste of money to experiment with?
Authenticity is the buzzword of the year. Consumers want vulnerability and sincerity. No longer can a brand work with any old influencer who has over 10,000 Instagram followers. The 2018 market needs more. Brands should seek out true experts in their products field. They should also be thoughtful about who they want to work with, be associated with, and be represented by.
Trend Tip: Lose influencers who gained fame by being on a reality TV show. Set clear expectations and standards to find the most suitable influencer for your brand.  True, you need to remember to choose someone that will help deliver a return on investment, but that needs to balance with someone whose opinions can truly be trusted.
User-Created Content:
On the same thought wave, it is still really hard to trust influencers, as they are paid to endorse certain products. Or they simply get those products and other goodies from the brand for free in hopes of a positive review. Good news is, most social media platforms are requiring users to specify if a brand is sponsoring a specific post. Another good piece of news is that a numerous amount of influencers only promote the products they actually love and use themselves. Still, the authenticity is questionable. Which is why you will start seeing brands use user-created posts in their own feeds.
We, as humans, trust the people we know and care about – friends, family, colleagues, associates, etc. We give their opinions much higher value over influencers and celebrities, sometimes, even more, value than our own thoughts and opinions. Because it's clear we trust each other, brands are going to start leveraging user-created content more heavily in their social media strategies.
Trend Tip: Spend time actually diving into the feeds of your followers. Hashtags exist for a reason. Use them to your advantage. Find posts that fit the aesthetic and message of your brand and begin to filter those posts into your social campaigns. Giving users credit for their own posts not only boosts your brand but also boosts customer morale and enthusiasm over your brand.
Personalized Content:
Millennials. They're all anyone ever talks about. According to some, their love of avocado toast and lattes is ruining the economy.  They're considered the laziest generation due to their unemployment statistics and high financial debts. On the flip side, they are considered the most stressed, depressed, and anxiety-ridden compared to any other age demographic. But no matter how you feel about them, one thing is very clear; they are a huge target audience with a force that can't be ignored.
Millennials are most known for being independent, unique, creative, and no longer willing to abide by precedents set before them. They want products and companies that stand for change and no longer stand for ineffective traditions of the past. Millennials want to relate, trust and value the companies and products on which they spend their money. And they aren't alone. More and more, people are choosing to vote with their dollar, only investing in the brands they feel are the best representations of themselves. No one wants to feel alone or isolated. By creating relatable content, users are more likely to consume, share, and recommend a brand's products.
Trend Tip: Define your buyer market and create customer avatars. Step into the shoes of your consumers to see if they will find value in what you are trying to sell. Think about age, gender, education level, geography, etc.  The more personalized content is, the more engaged your audience will be.
A Shift to Generation Z:
 Behind Millennials are Generation Z. Born after 1995, by the year 2020, those in Gen Z will account for one-third of the entire US population.  There are a few major differences between Gen Z and Millennials which includes the following: Less focus, faster information processing, and shorter attention spans for those in Gen Z. With that in mind, Gen Z is actually better multi-taskers, doing different kinds of work on different devices, often with some kind of distraction playing in the background. Millennials will barter and use coupons, whereas Gen Z is speculated to enter the workforce after high school, rather than getting into debt with higher education. This will only encourage the rise of entrepreneurship.
Currently, the oldest members of Gen Z are in their late teens. Most have started working and creating their own disposable income. By focusing on them now, brands have the opportunity to create lifelong customers, but only if they do it right.
Trend Tip:  Like we said before, authenticity is everything – especially to Gen Z. Use social media platforms not only to promote your brand but to also give some behind the scenes look into your brand. Choose an influencer that's not only relatable to this generation but also create quality products worth promoting. Lastly, words don't mean anything to Gen Z. They're a generation that prefers images over text and action over words. To create good press and positive buzz you have to do good, buzz-worthy social work outside of the brand.
Ephemeral Content: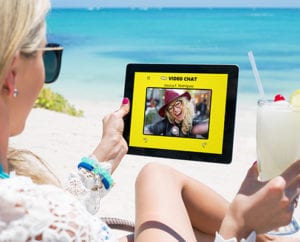 Snapchat was the true trending start in ephemeral content (ephemeral meaning short-lived). At most, these posts live for 24 hours and then disappear from their respective platforms. Millennials and Gen Z eat ephemeral content up, especially when it's used in a more vulnerable way.
While it seems hypocritical for a marketer to focus on content that disappears, ephemeral content has its advantages. Like we already said multiple times, authenticity is everything. Ephemeral content is seen as the most authentic content in social media. Secondly, with users knowing the content is short-lived, it makes them both process and acts on information quicker than a normal lasting post. It sponsors impulse buying and pushes the use of mobile marketing campaigns.
Trend Tip:  One of the best ways to use ephemeral content is to use it in a behind the scenes kind of way. Say you're a food blogger, creating your recipe and posting it on your Snapchat/Instagram story shows your followers step by step how to make dishes like you. That act then connects your follower to you on a more personal level. You become approachable and relatable. No longer are they aspiring to cook like you from afar, now they actually have the chance. The same goes for any other kind of market brand. Retailers can get behind the scenes shots on photo shoots or commercials. Corporations can now show the public the humanitarian work they do out of the office. Also remember to link your social media accounts, as it is a way to drastically improve your Facebook presence.
Bonus Tip: Be vulnerable and show the times things don't go as planned – recipes that failed, bloopers, etc. Showing failures doesn't make you weak. It makes your company that much stronger. It reminds your audience that you are human too and shows you in a more empathetic light.
Stories, Livestreams, and Hangouts Oh My:
Continuing on the ephemeral content theme, the easiest ways to incorporate it into your marketing strategy is through Facebook Live and Snapchat/Instagram Stories. Remember how we said Snapchat, which has been around for 6 years now, started the trend of ephemeral content? Well, Instagram launched the story feature a little over a year ago, yet it already has around 200 million monthly users – 50 million more than Snapchat. It's been predicted that by the end of 2018 that half of all Instagram users will be using the feature on a regular basis. That's roughly 400 million users.
Live streaming has the same platform as stories except for one major factor. You guessed it; it's in the moment, live-action content. Brands can't get much more real or authentic than this. No Photoshop or editing here. While livestreams started out as a fun trick, it's now being demanded by consumers. Why? Because digital hangouts are extremely popular among Gen Z. Platforms that combine messaging, video chat, and conference calling are gaining more and more traction each day. No longer do young consumers want to go to a park and hang out. Now, they have the option of hanging out with people anywhere in the world in their own digital world.
Trend Tip: Facebook has been working on their own version of a digital hangout called Facebook Spaces. Since they own Oculus, the virtual reality headset guru, we can only guess at the features this new project will create. Just know, it's going to start a revolution in how we interact with one another.
Video:
 Video is livestreams older, more refined brother. It has been growing rapidly in popularity in recent years. It is an important aspect of new social algorithms, making it extremely valuable to any brand. Video attracts higher engagement among consumers including shares, retweets, comments, likes, reactions, etc. Good news is that there are numerous ways to include video into your social media strategy.
Trend Tip: Did you know that viewers retain 95% of a message seen in a video vs. 10% retention when seen in a text format? Did you also know that the first three seconds of your video is the most crucial in engaging your audience? It's estimated that video will account for 80% of all Internet consumer traffic by the year 2019.  Now is a better time than ever to embrace it.
Shifting to Mobile: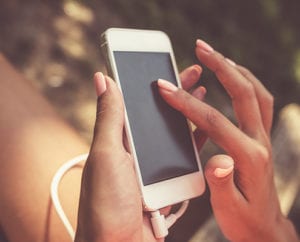 Everyone is constantly on their phones. We use them for everything. We browse through Instagram on the elevator and check Facebook while waiting for friends. We Snapchat as we wait in line to order food and check our LinkedIn on our lunch break. In a time when we are the most social and connected than we have ever been, that connection is stemming from our phones, not in the traditional face to face sense.
The biggest social media apps are mobile-based. Let's start with Snapchat. A user can only use the app on their smartphone. The company has a website, but the website acts as a way to enhance the app. A user can create and buy specific geofilters, codes, and ads. Instagram.com acts as a browser navigation tool. Users have to use the smartphone app in order to post and create/view stories. The Facebook mobile app is the top app of the year. Traffic on the actual Facebook site has been steadily decreasing in the last few years.
The future is mobile. Computers and laptops are getting smaller, while phones are getting bigger. They hold an unbelievable amount of storage and have made life more convenient than ever. We use it as a GPS, for dinner recommendations and reservations, for dating, uploading résumés, and creating portfolios. There are a few things we aren't able to perform on it yet.  Brands need to start creating content specifically for mobile devices or they are going to get left behind.
Trend Tip: Snapchat is making it easier and easier to create mobile content. By going to their website and clicking on their Ad tab, you are redirected to the company's "For Business" site. It teaches you how to reach unique audiences, how to grow your business, and how to track real-time results. To quote the company itself, "Our ad products are fun and effective, for every objective." Check it out for yourself!
Messaging Centers and Chatbots: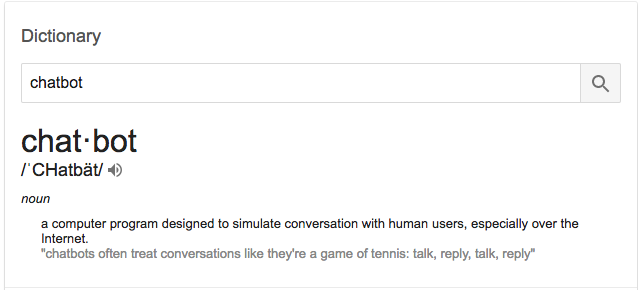 As previously stated, virtual hangouts are becoming ever popular. The ability to chat with someone live is a great way to get consumers interested in your products and services. Many consumers believe that communication is key to the buying process. If they are able to speak with someone directly about purchasing a product, it assures them they will be able to communicate about any possible mishap with the problem later on. By using chatbots, companies can both increase the speed in which they communicate with their customers but can solve more issues in different areas as well. It's projected that up to 20% of business content could be machine-generated by 2018. A number of brands are testing the use and development of chatbots every day – ranging from solving customer issues to ordering Chinese takeout online.
Trend Tip: Now is a better time than ever to introduce chatbots into your business. Millennials are the most adaptive when it comes to interacting with chatbots, with 71% wanting to try a chatbot experience from major brands. But remember, Millennials aren't the only group who will be using your chatbot. Create your character first and give users a reason to use the bot. Give your chatbot feelings and remember to create an experience first, not code. Lastly, remember the bots won't be perfect, failures can happen to both bots and humans.
Augmented Reality:
The future is officially here. Phones are now featuring processors advanced enough to allow users to enjoy augmented reality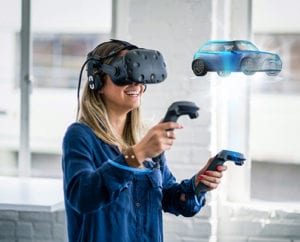 experiences within apps. Before long, social media platforms are going to integrate these features as well. Snapchat is already ahead of the curve since launching their AR feature which projects users Bitmoji's into the real world. IKEA recently followed suit by launching their "Place" app, which allows users to preview furniture in their homes before buying.
Trend Tip: Don't just implement AR for the sake of adding AR. Make sure the experience adds value for your users. Let AR work with your social media marketing strategy and don't forget to dream big, as this feature will continue to develop in the coming years.
Whatever strategies you choose to expand your social media marketing with, make sure you have a strong supporting strategy in place already. These trends won't save a poorly thought out plan – they'll only enhance a strong one.
Not Sure Where to Start?
The world of marketing is rapidly expanding. What's trending and helping you gain new customers today won't necessarily be the best way to grow your business tomorrow. With so many moving parts in both the digital and physical marketing space, it's no wonder small business owners are unsure where they should even start. That's where the Pittsburgh marketing agency onCOREventures Strategic Marketing comes in. We created onCOREventures for honest business owners wanting to operate in harmony with their core values. If you're trying to create positive change in the world while also attracting customers who share your values, our "strategy first" methodology may be exactly what you've been looking for!