Search Engines – Looking for the Best SEO Results?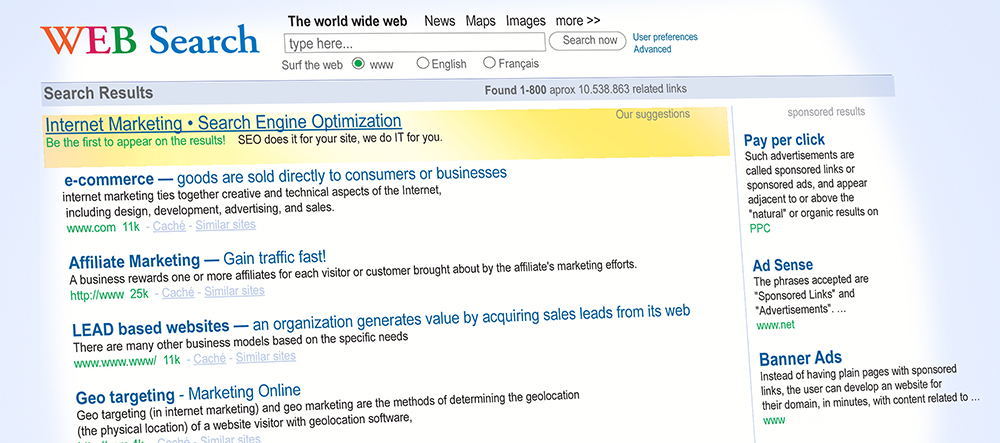 Search Engines – they drive most small business owners crazy.  The only thing worse than search engines are the geeks that speak about mystical SEO. Search Engine Optimization (or SEO) is something that every business owner with a website needs to address. Whether you are creating a new site or redesigning a current website, you want to make sure that your web pages are well represented to the search engines and show up "on page one" of that search result to your customer.
What is Page One and Why is it Important?
Page one is an SEO factor that influences where a website or piece of content will rank in search engines. Not one factor will produce top search engine rankings and that is where it gets tricky to explain and understand. You need a combination of research, planning, and optimization of the website inside and out to produce results. Because the factors change weight it is important that you are paying attention to when that happens and address that immediately. Think of it as picking up your exercise the week after you have indulged in eating and drinking over a long weekend. If you are aware of possible changes you can work on those right away.
Our course, it isn't possible to talk about every SEO factor in one article. This is because Google has over 200 SEO factors and over 10,000 sub-signals for ranking. That is way too much information to digest and remember. Guess what? You don't have to remember or even know all of the factors that influence SEO. You need to learn about what is important and why it matters. Once you have that down, the rest of the details fall into place.
Content Creation – the quality stuff you need for your site
If you are creating or having your website redesigned just consider your user.  Many businesses focus their energies on the design elements of the site and not the ultimate goals of the website visit. This is the first strong step in addressing the top-ranking position.  Do you want to show your product offerings immediately? Are you focused on events to your store? Do you want people to purchase your services?
If you are caught up in the design and what your competitors are doing with their sites, you can lose the focus of what you want the actual website visitor to experience.
If you focus on the content instead of getting locked into a design, you will show better results for the search engines and help with your ranking out of the gate. You can focus on these elements when building your site:
Home
About you or your company
Services
Products
Resources (if you use them)
User type (or persona)
Landing pages templates
Blog
Contact page
The Right SEO Consultant for the Job
Search Engines – Finding Expertise
Find somebody that has the knowledge to optimize your site and does that carefully, sharing the results along with training you on the ongoing care of what is your public presence.  That person should be excited about your business and journey and will begin that trip with you. Be prepared for a lot of communication and questions to help prepare you for SEO. You should be discussing things such as core content and headers, images, videos, social media and calls to action so that your web pages are well represented to the search engines. Your consultant should be considering balance with your design and keep bringing your focus back to your customer or user. You should both have the same goals to return the best results that you can.
At onCOREventures, we work with our client's in a variety of ways when it comes to dealing with search engines.  Fundamentally, we take a coach approach and identify the client's needs for marketing components and will not recommend a strategy that does not make sense.
When it comes to SEO many clients do not have the thousands of dollars to spend on an SEO audit and a plan to fix the underlying issues with their website.  When this happens we offer tools to teach the client to do a lot of the work themselves. These tools are available in our marketing coaching program.  If a client does have the money for a customized SEO audit and plan, we help them evaluate the potential plan cost and approach with our total online presence audit.
However, you decide to move forward with a plan to improve the results that you are getting from search engines make sure you are dealing with someone you can trust.
Not Sure Where to Start?
The world of marketing is rapidly expanding. What's trending and helping you gain new customers today won't necessarily be the best way to grow your business tomorrow. With so many moving parts in both the digital and physical marketing space, it's no wonder small business owners are unsure where they should even start. That's where the Pittsburgh marketing agency onCOREventures Strategic Marketing comes in. We created onCOREventures for honest business owners wanting to operate in harmony with their core values. If you're trying to create positive change in the world while also attracting customers who share your values, our "strategy first" methodology may be exactly what you've been looking for!