Small Business SEO – Blogging and Keywords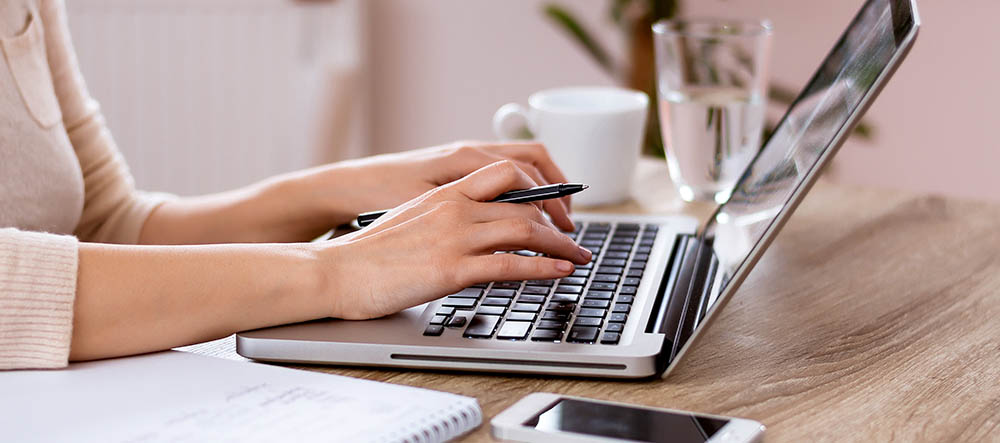 Small Business SEO – How to Use Blogging and Keywords
SEO, or search engine optimization, is essential if you want your customers to find you. Without it, you're all but invisible to search engines and the people who use them, so those customers are likely to find and buy from your competitors instead.
The trouble is, many small business owners find SEO difficult. Search engines are always evolving, and the competition for top positions in the search results is stiff.
When you don't have the budget for an SEO consultant or SEO service, and you aren't an SEO expert yourself, how can you help your clients to find you in this ever-changing and highly competitive environment?
Small business SEO  begins with a blogging and keyword strategy.
Most small businesses lack a solid strategy for blogs, keywords, and local search information.
To understand why these are important, you need to know which factors search engines use to choose which websites rank nearest to the top of the search results, and which sites to let slip into obscurity.
In this article, I'll give you a quick breakdown of some of those key factors, and I'll explain how you can use blogging, keywords and local search information to improve your website's standing in each of those vital areas.
Small Business SEO Factor 1: Using relevant keywords that your ideal customers search for regularly.
The most important, foundational step of your SEO strategy is knowing who your clients are and which keywords to use to attract them.
Keywords are the words or phrases people type into search engines when they're looking for products or services like yours, and having those words in your website tells engines and their users that your site is what they're looking for.
Here are some things you need to know in order to choose the right keywords:
Who your ideal clients are.
Knowing who your ideal clients are is the first step in figuring out what those clients want and how they'll search for it.
When you're defining your ideal client, it's important to be precise.
Even if your product or service is applicable to a wide range of people, different demographics have different priorities and might use different keywords, so if you haven't already done so, I strongly recommend that you take a few minutes to determine exactly who your ideal client is.
What your customers are looking for.
Once you know who you're targeting, you need to get clear on what they want and how they describe it when they're looking for it online.
Use short, specific, self-explanatory phrases and words that people would type into search engines. Don't use jargon or talk about the processes or tools you use; focus on the results.
For example, don't use phrases like "weekend mindset intensive with coaching calls".
Instead, address the benefits you give, the questions you answer, or the problems you solve, like "how to stop procrastinating", "how much should I charge for coaching programs?", or "stop being nervous when you sell".
If you serve a specific geographic area, it's important to specify that area in your keywords.
A person looking for food in Pittsburgh doesn't care about restaurants in New York, and a driver who gets a flat tire in Denver doesn't want an auto repair shop in Orlando. They're looking specifically for a business in their city, so you need to tell them where you are.
Which keywords indicate non-buyers.
Not all search terms help the right people find you. If you sell ice cream, you don't want to rank for the key phrase "ice cream recipes", because people looking for recipes want to MAKE ice cream, not buy it.
Once you've chosen your keywords, you need to put them in the right places.
There was a time when simply stuffing your site with keywords would boost your rankings, but that didn't make for a very good user experience, and search engines took notice of that.
It's in a search engine's best interests to give first-page positions to sites that contain content their users like.
The more quickly they direct web surfers to the right sites, the more likely it is that those people will keep using them, and readers don't like slogging through low-quality content that was written for keyword density instead of readability and usefulness.
Blog posts that offer information your ideal clients are searching for are a great way to combine keywords with quality, so people not only find your site and click through to it but actually stay on the site and make a purchase after they click.
Not only does this improve your chances of showing up in their search results, but it shows your expertise, earns your readers' gratitude and gives you an opportunity to educate people about why they need your products or services.
Take special care to include your keyword or key phrase in the H1 headings in your content, because those tell search engines what the page is about.
You can also include your keywords in your page titles, your website's title meta tags and description meta tags, and the description, captions and alt text for your pictures. These help search engines to know what kind of content you offer without overstuffing that content with keywords.
Small Business SEO Factor 2: How frequently you add relevant and useful content.
While adding good-quality content on a regular basis doesn't automatically mean you'll rank higher, it does give both people and search engines more reasons to look at your site frequently, which helps to improve your search rank.
Publishing new blog posts on a weekly or biweekly basis is a great way to achieve this goal.  MOre is better – sites with twenty blog entries per month get four to five times the small business SEO "juice" than sites with no blog.
In your posts, tell people how to solve a problem they have or get a benefit they desire, explain how to perform a task they're trying to do, or answer a question that's burning in their minds while using the same phrases they use to describe their question, problem or desire.
When you're creating your content-based SEO plan, remember that when it comes to content, quality is more important than quantity.
If you simply flood your site with low-quality, keyword-stuffed content that doesn't give your visitors any value, search engines will penalize you, and your readers won't share your content with their friends or come back for more.
You also want to avoid giving basic tips that everybody knows. Nobody wants to buy from Captain Obvious – they want to buy from an expert who teaches them something useful that they didn't already know.
One other thing to avoid is duplicate content. Having the same content on multiple pages on your site is a sign of low quality that will negatively impact your rankings.
Small Business SEO Factor 3: How long people stay on your site.
How long people linger on your website is a sign of your site's quality, and search engines will award you a higher ranking based on that.
Creating content people want to consume is one way to get them to stay on your site longer. Another method is to enrich your blog posts with relevant links to other posts on your site, because this encourages your visitors to read more than one of your articles.
One thing that I have discovered as I have done an extensive SEO analysis of my own site is that my content was boring and not engaging – lots of words.  We will be adding videos, slideshares, animated graphics and podcasts to our content strategy and our blogging platform to engage our readers.  Make it fun to discover what materials are on your site.  And if you have suggestions for our site we welcome that feedback via our contact page or email.
Small Business SEO Factor 4: Consistent profile information.
 Creating profiles in directories related to your industry is an effective way to boost your rankings, attract clients and get reviews, but search engines will penalize you if your information is inconsistent.
When you're creating your local business directory profiles, make sure your data, especially your contact information and address, is exactly the same across all of your profiles.
If you serve a specific geographical area, use location-and-industry-specific keywords like "Chinese restaurant in Pittsburgh" in your profile, so people who are looking for services like yours are more likely to see you in their search results.
Small Business SEO Factor 5: Your reviews
As noted above, it's in search engines' best interests to show the best results closest to the top of the search results.
If you get plenty of positive reviews and prevent negative ones, that tells engines that yours is the kind of high-quality business people are looking for, so they'll respond by helping those people find you.
Providing your current and potential customers with valuable content is one way to build your relationship with them, earn their gratitude, and give them some extra incentive to endorse you.
Small Business SEO Factor 6: Inbound and outbound links.
When a lot of websites have links pointing to your website, not only does that bring you more traffic, but it tells search engines you have a high-quality site that people want to look at.
Blog posts are a valuable link building strategy, because they encourage people to cite your posts as sources in their own content and to share links to your articles through their social media.
Including outgoing links to other useful websites in your content serves as a trust signal to search engines, because it indicates that you care about educating your clients.
By using these strategies in your web pages and blog posts, you'll increase your search rankings, help more clients to find you, and make more money and a bigger impact through your website.
Need help using SEO to bring clients to your small business?
Only 28% of small businesses invest in SEO, and an even smaller 12% have a consistent blogging strategy. But without a keyword strategy and regularly updated content, no small business can be effective in attracting clients through search engines.
If you implement the strategies we outlined above, you'll have an advantage over many of your competitors. But if you want to help as many clients as possible, there's more you can do to attract people to your business.
In onCOREventures, we practice a marketing methodology that starts with getting clear on who your ideal client is, what problems they're trying to solve, and what they want to experience after they overcome those challenges, so you can make your business more attractive to them.
We then develop a strategy to find those clients, get their attention and provide them with a specific solution that meets their needs, and then we implement that strategy in a way that gets significant, measurable results for your clients and your cashflow.
When done correctly, SEO that's centered around providing the right content at the right time can be a highly effective way to attract clients.
In their ebook, 7 Essential Stages of a Total Online Presence, Duct Tape Marketing explains how you can implement this valuable client attraction strategy in your business.
As a certified Duct Tape consultant, I can share this resource with you at no cost. Click the image below to download your copy, and pay special attention to pages 7 through 9, where they outline some of the strategies you can use to give valuable content to your audience.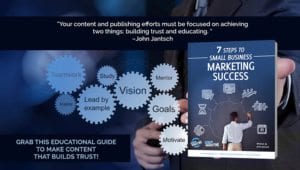 Image credit header – Adobe Stock