Google Reviews drive your Google my Business Results

Over the last few years, Google has made major changes that favor small business owners to Google my Business. We noticed a pattern of small businesses using their Google My Business profile organically being rewarded in local searches. And actually, we have seen this firsthand with some of our clients. At a recent Duct Tape Marketing conference, these same results were reported by the founder of Gather UP (a review tool that we use for our local clients). What does that mean for local small businesses' marketing strategy? What are the impacts of steady reviews? Let's take a deeper dive into the relationship between Google reviews and local businesses.
Reviews in a Nutshell
As we just discussed, Google's recent changes have affected organic and local SEO. The introduction of the Snack Pack gave small businesses an opportunity to be found by even more potential customers. These coveted map spots are affected by:
Structured name, address, and phone (NAP) on your site
Effective use of Goggle my business (GMB) – examples: posts, promos, hours for holidays, photos, etc.
Claimed citations (directory entries such as Yelp, Apple Yahoo, YP.com, etc.) that are consistent and regularly updated to GMB
Consistently refreshed and locally-focused content
Structured customer reviews
Why Are Reviews Important?
Reviews are crucial for a few different reasons. But first and foremost, it's because Google trusts social proof more than it trusts your content. Think about it. Who would you believe, a business owner who talks about how great his business is? Or customers who have had an actual business interaction with that same business owner? Your customers feel the same way. They trust the honest opinions and experiences of their peers over you, the business owner.
Reviews are also important because they are a part of the new customer journey. As technology increases the ease of our everyday lives, the customer journey and buying process has been completely turned on its head. Customers today utilize honest reviews as a part of their buying process as a means to make the best investment. When a review is submitted through Google, crawlers pull consistent keywords from each review as a way to help categorize reviews for the customer journey. Reviews are also a way to connect and communicate with your consumers. When you are personable and relatable and actually talk to your customers, it builds brand loyalty.
The Most Recent Changes
As we briefly discussed above, there is a new tagging feature in regard to Google reviews. Check out this example from one of our clients.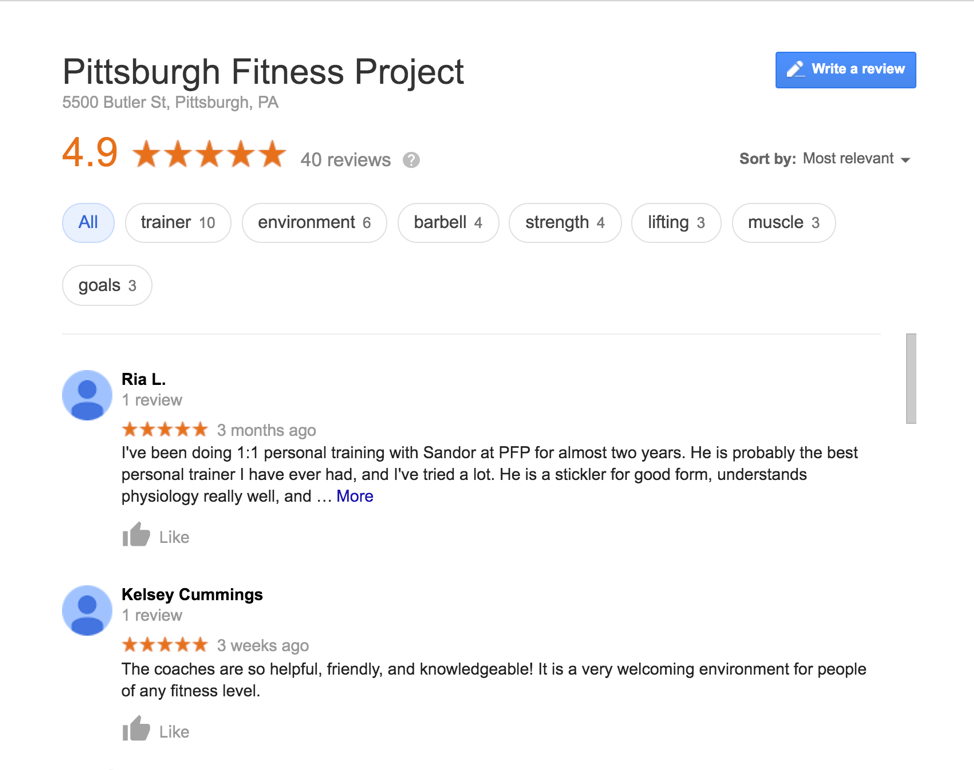 Notice under the star value, there are different buttons with words such as "trainer", "environment", "lifting", etc.. The number next to the keyword is the number of reviews that include that keyword. Consumers can sort through reviews with ease in a way that makes more sense for each individual buyer journey.
Review Tagging Page Feature
With this new tagging feature, small businesses have opportunities to utilize specific reviews for specific website pages. You can embed these keyword tagged reviews for corresponding pages on your site. This should not be confused with selecting positive reviews and omitting all negative reviews. Rather this should be seen as a tool that can help aid the customer buying journey as they will see all (positive and negative) reviews that pertain to the keyword.
Other Consequences
With this change also comes the elimination of the practice of pushing star ratings. All reviews must be solicited under specific guidelines. The second part of that is the penalization for using reviews to serve the business. The only reviews on your site should be those from a review aggregator.
What Can You Do as a Small Business?
If you're a small business owner, there's no need to fret. There are a couple of things you can do to keep Google in your corner in regard to reviews. Firstly, don't use reviews as a means of advertising (please note that reviews and testimonials are not the same). Accept every single review you receive. You may have the temptation to only selectively show the positive reviews you receive. But doing that only hurts your review relationship with Google. In fact, Google would rather see a few negative reviews here or there as a means to show you're not faking positive reviews!
The last two things to avoid are bribing customers for reviews with discounts, gear, promotional items, etc.. If Google thinks your reviews are biased, their trust in you will fall. Finally, don't bulk solicit reviews. Instead, solicit them on Google's terms through a review aggregator.
How We Do It
As a perk of being a Duct Tape Marketing System Certified Consultant, Fred has the opportunity to meet a number of marketing vendors across the nation. During one of his last conferences, he met one of the founders of GatherUp, a review soliciting tool that works in line with Google. During their conversation, they learned each of them noticed similar results in clients who had been using GMB organically when the change was made back in May. We believe that the utilization of this tool can bring great local search organic growth to your small business! Click here to learn more!