3 Ways 3D Printing Can Help You Grow Your Business

If you want a creative way to save time, manufacture goods, create new products, or make more people aware of your brand, you might want to give 3D printing a try.
What is 3D printing?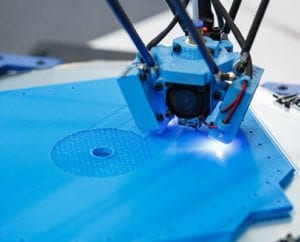 3D printing is a process by which three-dimensional designs on a computer are turned into physical objects.
There are several methods by which this can be achieved, and you can get a more detailed explanation of the physical and technological processes here, but in this article, I'd like to focus on how this marvelous technology can be used to grow your business.
What kind of items can you make with 3D printing?
3D printing can be used to create a wide variety of objects, ranging from clothing to keepsakes to practical items that could revolutionize the surgical industry.
With the availability of 3D printers that cost less than $1,000, a business can easily acquire a tool with which it can quickly create items that would once have required a variety of tools and skills that many companies don't have.
What does this mean for your business?
It means creating custom items for sale and branding just got a lot easier, and there might be fewer shopping trips in your future!
Here are 3 ways to use 3D printing to save time and create profit and brand awareness:
Create branded items to improve customer experience and branding
If you run a restaurant, you could 3D print branded plates, bowls, cups and cutlery, or you could capitalize on today's picture-heavy social media trends by creating playful branded accessories like masks or hats, and encouraging diners to take and share pictures of themselves wearing the items.
You could also offer branded travel cups, so if your customers want to take one last soft drink for the road without creating extra waste, they can do so with the purchase of a 3D printed cup with your branding on it.
If you sell clothing, you can print well-fitted, high-quality items with your branding, your clients' size and specifications, or both.
If you're a photographer, you can offer picture frames for your photographs.
In short: if you sell small physical objects, or your service involves them in any way, 3D printing gives you a flexible way to create items that match your brand and improve your customers' experience.
Offer customized products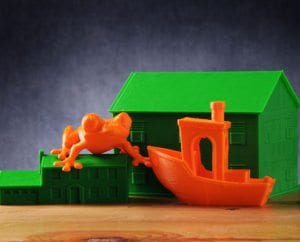 Because of the flexible nature of 3D printing, you can offer items tailored to your clients' specifications.
This can include custom clothing, picture frames with the customer's name or face, a personalized plate for the guest of honor when birthday celebrations are hosted at your restaurant, iPhone holders, mousepads, trinkets, and a wide variety of other personalized products.
Save yourself time and shopping money
Need a wrench, measuring cup, cookie cutter, pen holder, mousepad, or guitar pick?
Don't spend the time and money to go buy it at a store – just print yourself a new one and get on with your life!
There are reams of downloadable 3D printer designs on the internet, so even if you don't know how to design an item yourself, you can simply download the files and go.
If your business frequently involves the use of items that can be 3D printed, you can save yourself a lot of time and money by printing the items you need instead of taking a trip to the store whenever something needs to be purchased or replaced.
3D printing is isn't the only technological marvel waiting to be harnessed
There's a vast toolbox of technological advances just waiting for you to capitalize on them, in both your business and your personal life.
Rearview cameras and backup sensors that connect your car to your smartphone, so you can see what's behind you when you're backing up… smart remotes that connect to 25,000 devices… robots that mow, mulch and snowblow your yard for you… there are all kinds of cool inventions that can improve your life.
Are you taking advantage of them?
For some people, these changes are exciting and inspiring. These people look at the potential of the future, and wonder with awe about what will come next.
For others, it's an intimidating thought. They're comfortable with the way things were, and the requirement to keep up with all these changes can feel daunting.
If you find yourself unnerved by the rapid advancement of technology, I hope you can encourage yourself with the knowledge that these new developments can save you a great deal of time and money.
Just in the process of researching this blog post, I found a graphic design firm that might save me and my clients a small fortune. So I encourage you to keep looking for new advances in your field and those related to it – each time you do, you might find something that makes your life better.
Want to have the latest tips for business success delivered to your inbox?
Maybe you don't have time to seek out and research the latest advances in technology, business and strategy. But the most successful people are lifelong learners, and your success is important to me, so I want to make it easy for you.
That's why, at onCOREventures, we send our best information straight to your inbox.
In this weekly blog, we explore the latest trends in business and marketing, as well as advances in science and technology. We explain how to put them to practical use in your business, and we also reveal how you can use them to improve your life, health and happiness.
To get our best information delivered conveniently to your inbox, just fill out the form below to subscribe to our newsletter.