What do you get when we work together?
One of the essential parts of your business is your marketing plan. If you don't have a marketing plan, you probably won't have any clients – which means soon, you'll have no income and no business.
It's important to have a strategic marketing plan in place, so instead of spending a lot of time, money and energy on scattered efforts that don't get results, you can start attracting quality clients as soon as possible, get a high return on your investment, and spend your valuable time serving clients instead of seeking them.
Our plan, which is based on the proven Duct Tape Marketing Plan, focuses on strategy, and on creating and optimizing the core elements that you need in order to attract clients.
Your first step is to determine who your ideal client is, so you can focus your marketing efforts on the people who are the most likely to buy from you, and you don't waste time or money on people who are unlikely to make a purchase.
Next, you bring them through a journey of Know, Like, Trust, Try, Buy, Repeat and Refer that establishes your credibility, earns their trust, and turns them into repeat clients who refer lots of additional clients to you.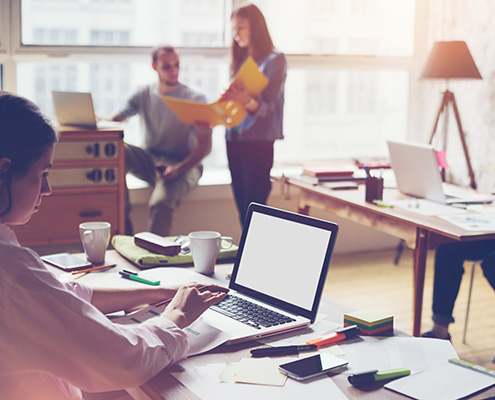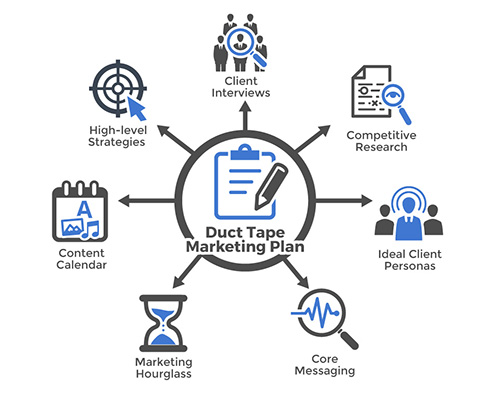 In our Strategic Marketing package, you will receive:
Client interviews - 10-15 ideal client interviews completed by the consultant. You will receive access to full recordings, interview transcripts, and high-level summaries.
Competitive research – You'll get a full, detailed report on competitive factors for 4-6 of your top competitors. These high-level summaries include their position in the market, the secrets behind their success, the reasons why their websites rank as well as they do, the social signals they use to get clients, and their client reviews.
Ideal client personas – We'll help you get a deeper understanding of each of your market segments, including an overview, an explanation of which initiatives are the most likely to turn these demographics into clients, factors you'll need in order to successfully market to them, barriers that you'll need to overcome to inspire them to purchase, their buying process, and the criteria with which they make their decisions.
Core message – We'll help you to clearly define what makes you different from other people in your industry, so you stand out from the competition. We'll also help you to develop a talking logo, and message that you'll use to convey your unique value when speaking to different target markets.
Marketing Hourglass – Your consultant and the other members of your OnCore team will brainstorm with you to come up with all the ways in which you can get your clients to know, like and trust you, to try your products, to buy from you repeatedly, and to refer more clients to you.
Content calendar – You'll get a clear plan for your content marketing, so you know what type of content to use, what goals you want to accomplish with it, and 12 monthly themes to use, so you never find yourself staring at a blank screen, wondering what to write and whether it will be effective.
High-level strategies – 4-6 of your highest-level strategies, mapped out with detailed tactics to help you reach your goals, so you always know which step to take next.
Want to learn more?
If you're ready to stop struggling with marketing efforts that don't get results and to create a strategic marketing plan that brings you all the clients you desire, your next step is simple: click the button below to get a free signature brand audit, in which you'll discover:
What parts your current marketing and business plan is missing
What you're doing that's NOT working, and how it can be improved
A new level of clarity about your goals and vision for your business
Concrete actions you need to take to bring in clients, revenue, and long-term success
You have nothing to lose, and everything to gain, so schedule your complimentary session today!
Image Credit - Adobe Stock